Interior and exterior decoration - Fine arts - design
Newsletter
Join us and stay informed!
When the prosaic becomes magical...
There are no insignificant details. Hooks, coat hooks, door handles, wardrobe handle, brackets and consoles... All these small interior objects that are rarely named, Agnès Emery makes them important through a unique collection. In the form of delicate and playful hardware, these little things open up worlds to transform your daily life. All you have to do is linger on them to change everything: they alone form a world!
Who is CielBelge ?
CielBelge is a unique sales platform that brings together the EMERY&Cie and PAONLIN brands, suppliers of Beau in your daily life. These two quality labels, renowned for their offer a selection of original objects and products. Paint, small furniture, wrought iron: each product, conceived according to an artisanal know-how, is neat and impregnated of artistic inspiration. Whether it is intended for a creative setting or an intimate décor, it sets the tone and sublimates the space.
CielBelge is a nod to the paint of the same name, from the Emery&Cie range: an original creation in two original creation, declined in two tones, in homage to the range of nuances of the Belgian light. of Belgian light. But above all it is a signature in dedication to Belgian culture in all its singularity culture in all its uniqueness: its inspiring avant-gardism, its discretion and humility, its his authentic and straightforward character, his legendary sense of self-mockery... A rich personality that gives a unique a rich personality that gives a unique touch to our creations!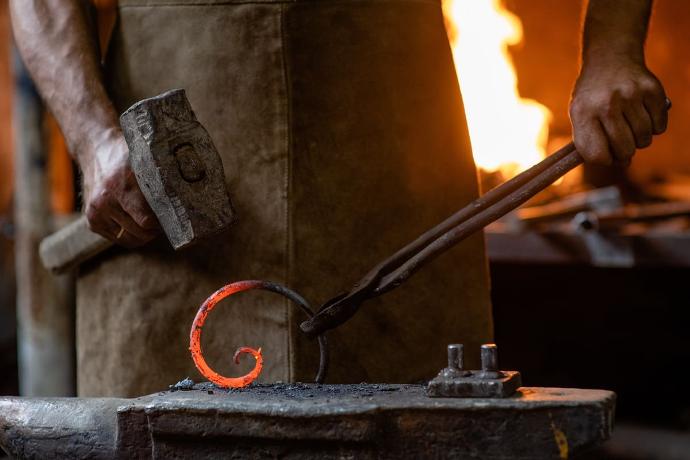 News
The strength of the artisanal gesture
Agnès Emery is passionate about wrought iron in its most audacious forms. It's not surprising when you think of the background of the architect and decorator who grew up in Brussels, a city marked by the work of Victor Horta, master of Art Nouveau architecture.