Discover "Le dernier Sisyphe", a richly illustrated book by Jimmy Pantera, which retraces the life and work of Edmond Jamoulle through a collection of captivating anecdotes.

Description


Binding: Cardboard
Number of pages: 100
Writing: Jimmy Pantera
Language: French
Dimensions: 24,5cmx14,5cm
LE DERNIER SISYPHE
Splendors and ghosts

​


Edmond Jamoulle magnified the facades of Brussels cinemas for half a century, between 1950 and 2000. I met him in 2019 when I was writing Cinéma ABC, la nécropole du porno (CFC). We've been seeing each other regularly ever since.
To spend a moment in his company is to relive the episodes of a grandiose era. That of silver film, Hollywood blockbusters in Technicolor and B-movies, and the stars who embodied that vanished world...




His exceptional longevity brought him into contact with major cinematographic currents, but also with infrequent and impure sub-genres on the lookout for censorship. With no hierarchy or concern for respectability, Edmond Jamoulle was also sexploitation, porn and karate.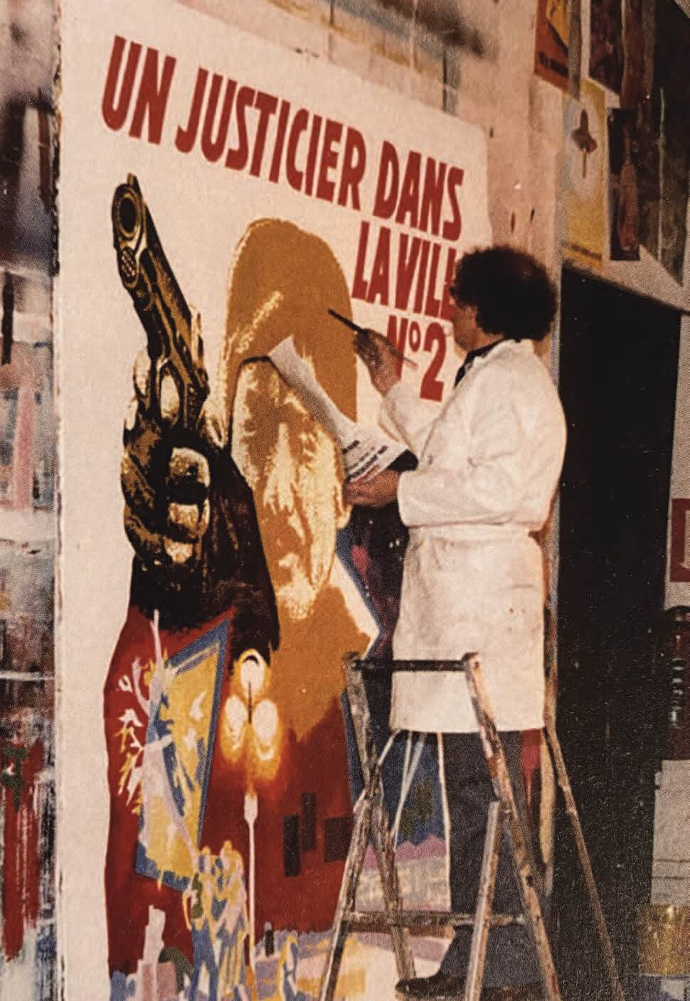 Edmond Jamoulle in his workshop. 
Death Wish 2 
Michael Winner [USA] 1982

Helen of Troy
Robert Wise [USA, Italie] 1956 
Eldorado 
Edmond Jamoulle, standing on the cinema box office, builds a Trojan horse to promote the film.

As I listen to his anecdotes, I understand that he had total mastery of his craft: no technical challenge frightened him. For decades, he displayed inexhaustible energy, painting his sometimes immense frescoes with the same enthusiasm. An accomplished artist, he could execute breathtaking portraits at top speed. Both art director and executor, he dominated space with gigantic relationships of scale.
His painted panels functioned like silent trailers. Thanks to the numerous cut-out silhouettes and raised lettering, they could also become enormous slide shows.

Paradoxically, the dying days of Brussels cinemas from the 1970s onwards gave him an extra workload, as one after another, his colleagues had given up the game. There were no newcomers on the horizon. Perhaps Edmond Jamoulle already knew he would be the last?
Virtually nothing remains of this pictorial epic. Almost all of the 15,000 panels created by Edmond Jamoulle were destroyed. Only a few remain, miraculously preserved. A few rare photos remain, remnants of the enchantment these spectacular calicoes spread across the urban landscape.
I thought it would be a good idea to include a few other precious shots in this book. Marco Laguna found them in a suitcase at a flea market. Taken by a reporter for the magazine Ciné Télé Revue, they bear witness to the Brussels parties where the stars of the 7th art jostled for position in the 1960s and 1970s.

Jimmy Pantera,
February 2023.
Le Gang 
Jacques Deray [France] 
Press conference with the director, Alain Delon and Agnès Château, Mireille Darc in the background
1977 
Passage 44