Wrought iron cabinet handle ESCARGOT created by Agnès Emery
A cabinet handle, finely drawn in a spiral, which evokes the discreet grace of the snail. A playful and aesthetic piece created by Agnès Emery. A handcrafted object in wrought iron designed by hand and heated to red, a unique piece.

Description
Weight: 100g.
Specificity:  Each item is unique and may vary slightly from the photos. The screws are not included.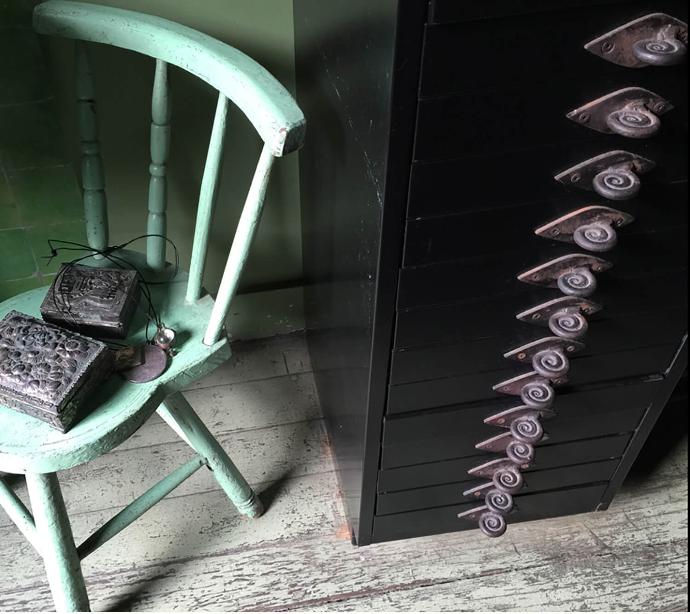 Agnès Emery's universe is a vibrant tribute to nature, an enveloping maternal force as much as a fabulous inciter to the imagination. Shapes and colors of her creations are inspired by landscapes, and more directly by fauna and flora: grass, bird, seaweed, branch, snail, aquatic element, shades of blue, green and earth... so many references to the living world, which are omnipresent in her work. With this particularity: his vision of nature resembles that of a child who marvels at an insect or a blade of grass, this eye hungry for knowledge that has the gift of stopping his gaze on each detail. Behind the austere and elegant attire, there is an air of nostalgia and mystery mixed with a liveliness, a joy, a curiosity that recalls those of the dreamy child who lets himself be surprised by life. From her childhood, Agnès Emery has kept the lightness and the total opening to the world, the sense of the fantasy which builds a story from any element, the magic behind the banality.
Everywhere in his creations - furniture in wrought iron, in his fabrics, tiles, wallpapers - appear vegetal forms and animal presences, all with the look of a child imbued with poetry and a sweet naivety. A branch, a grass, an animal in sketch, modelled, painted or figured in an affirmed way or much more mysterious, always with subtlety. The animal or the vegetable hides itself in the details to better poetize a place of life. Agnès Emery transforms your interior into a mysterious tale: a lock can be transformed into a mermaid and a snail into a cupboard handle! In this context, there is nothing more natural than the recurring appearance of the snail... it is a praise of the rain, of nonchalance, of incongruity, even of sobriety when one thinks that it humbly moves with its only house!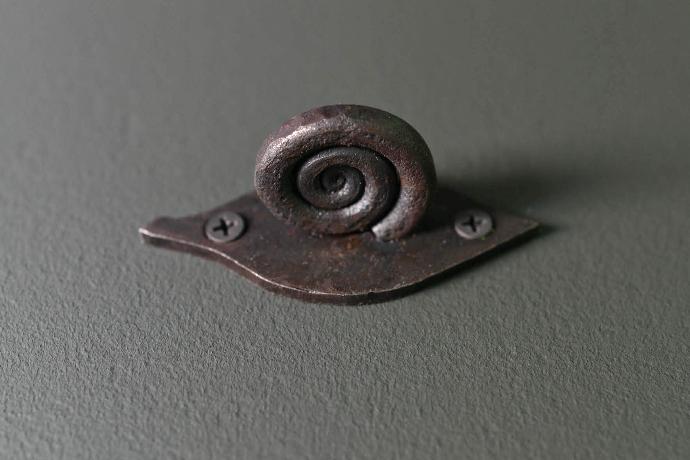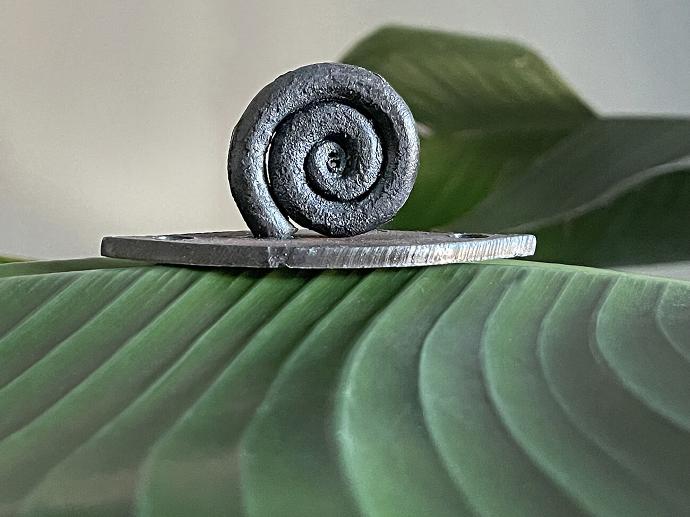 This small playful gastropod, appreciated in nursery rhymes, with its fragile and fascinating shell, inhabits the hand-painted tiles by Agnès Emery and the wrought iron cabinet handles, handmade from her drawings. All spiral, symbol of harmony and well known motif of the sacred geometry, of a rolled and finely granulated iron, this cabinet handle is the poetic quintessence of the snail according to Agnès Emery! Each cabinet handle is hand forged, each piece has its own particularity that differentiates it from another.